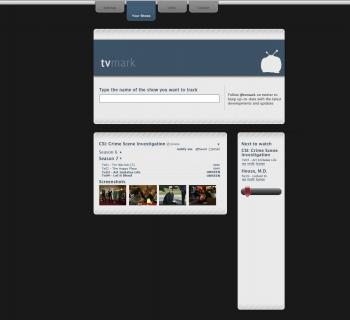 A site which track which episodes of TV shows you have watched. You create an account and enter the name of a TV show (AJAX completed, naturally). Before the show is associated with your account, you are shown a list of broadcast episodes and you must select the latest one you have watched. You can add as many shows as you like. When you visit the site, you see something like the visual here (although with the design not totally ripped from Automatic) so you can instantly tell what the next unseen episode is.
You can ask to be notified when a new episode is broadcast in a variety of ways (twitter, e-mail, rss). Shows can be broadcast anywhere in any country and so to get around the problem of detecting when a show is broadcast, the site actually follows a collection of well-known torrent providers. Note: this site doesn't provide any links to torrents or video files, it just relies on the fact that shows usually turn up on the torrent scene shortly after they have been broadcast. You can buy episodes or seasons from iTunes or Amazon links provided next to your tracking panel.
The visual isn't great as there will also be some big button on each show panel to increment the last show watched.